Sanjex Seratti is a well-known and easily-recognisable personality of Morpeth and the greater Hunter region, New South Wales, Australia.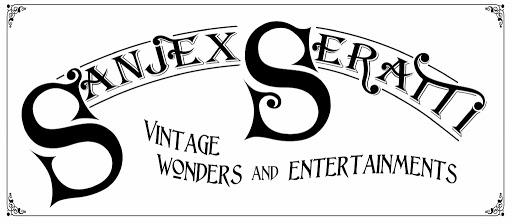 Not only does he ride his Penny Farthing bicycle at shows and festivals – and simply around local streets – Sanjex builds and operates a host of vintage-inspired games for children and adults alike.
It is Sanjex' dream to take people back to an earlier time without the distraction of technology; where imagination formed a greater part in play. You'll see Sanjex' own imagination in his games – such as the extraordinary 'Mazeing Village', an entire tiny village maze encased in a box that must be swiveled back and forth, and the 'Ocean's Edge', a game where a fleet of ships must be balanced on an endlessly moving, 'flat earth' round.
Sanjex' character is loosely based around a late Victorian age Steampunk navigator. His curious engineering nature can be seen is his games and steampunk contraptions. Steampunk is a subculture inspired by the steam power and aesthetics of the 19th century while incorporating futuristic aspects of the current time period.
Sanjex, his Penny Farthing, and his vintage games are available for your next organised event, party, birthday, wedding, conference, or show day. So "roll up roll up" and catch Sanjex Seratti's Vintage Wonders & Entertainments.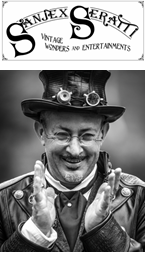 If you would like to send Sanjex a message, please do so through the form below.